Getting Started
CompilerGym is a toolkit for applying reinforcement learning to compiler optimization tasks. This document provides a short walkthrough of the key concepts, using the codesize reduction task of a production-grade compiler as an example. It will take about 20 minutes to work through. Lets get started!
CompilerGym exposes compiler optimization problems as environments for reinforcement learning. It uses the OpenAI Gym interface to expose the "agent-environment loop" of reinforcement learning: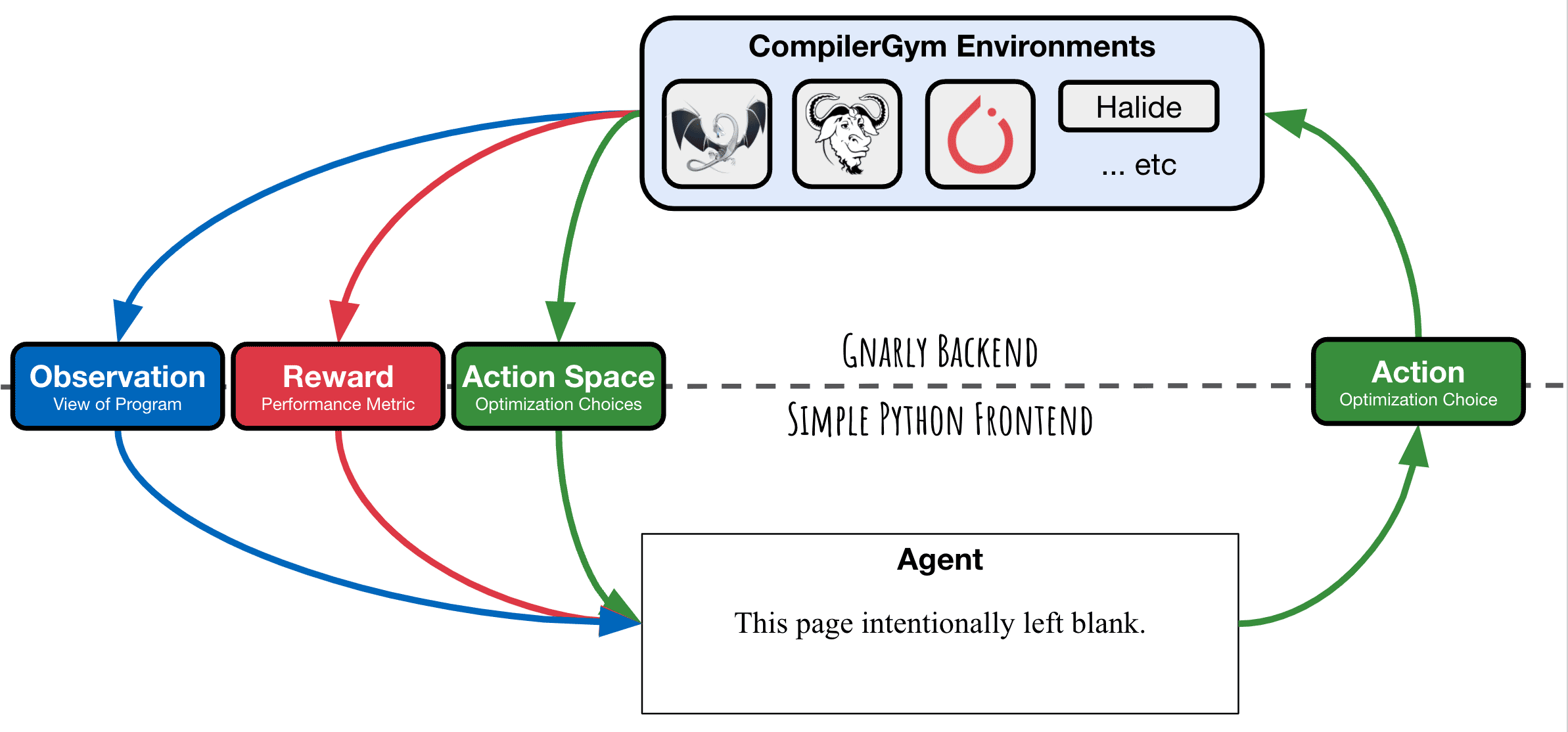 The ingredients for reinforcement learning that CompilerGym provides are:
Environment: a compiler optimization task. For example, optimizing a C++ graph-traversal program for codesize using LLVM. The environment encapsulates an instance of a compiler and a particular program that is being compiled. As an agent interacts with the environment, the state of the program, and the compiler, can change.

Action Space: the actions that may be taken at the current environment state. For example, this could be a set of optimization transformations that the compiler can apply to the program.

Observation: a view of the current environment state. For example, this could be the Intermediate Representation (IR) of the program that is being compiled. The types of observations that are available depend on the compiler.

Reward: a metric indicating the quality of the previous action. For example, for a codesize optimization task this could be the change to the number of instructions of the previous action.
A single instance of this "agent-environment loop" represents the compilation of a particular program. The goal is to develop an agent that maximises the cumulative reward from these environments so as to produce the best programs.
Install the latest CompilerGym release using:
pip

 

install

 

-

U

 

compiler_gym



See INSTALL.md for alternative installation methods.
Begin by firing up a python interpreter:
To start with we import the gym module and the CompilerGym environments:
>>> 

import

 

gym




>>> 

import

 

compiler_gym



Importing compiler_gym automatically registers the compiler environments.
We can see what environments are available using:
>>> 

compiler_gym

.

COMPILER_GYM_ENVS




['llvm-v0', 'llvm-ic-v0', 'llvm-autophase-ic-v0', 'llvm-ir-ic-v0']



Now that you have got to grips with the compiler environment, take a browse through the examples directory for pytorch integration, agent implementations, etc. Then check out the leaderboards to see what the best performing algorithms are, and the documentation for details of the APIs and environments. We love feedback, bug reports, and feature requests - please file an issue!